This summer, let's meet for chess in Royal City (New Westminster). For results of last year's tournament, you can find the link here: New West Open 2018 Results
When
Aug 3rd - 5th
(Aug 3rd - 4th for Reserve section)
First round: 10am, Aug 3rd
Organizer
West Chess Club
Lily Jia, Nicole Zhao and Eric Gu
Co-youth organizers:
Lyvia Shan, Sherry Tian and Henry Yang
Arbiter(s)
IA Stephen Wright (TD)
Eric Gu
Contact
Eric Gu 
Email: info@westchess.com (Preferred)
Donors list
Yang Song, Samuel Zheng
Detail
Swiss system
6 rounds
Sections
Premier / U2000 / U1600 / U1200 / Reserve (U800)
(Subject to merge in case less than 40 total entries or less than 10 entries any section.)
Time control
G/50+10 for Reserve section
G/90+30 for all other sections
CFC rated
You need a valid CFC membership ( Renew or buy annual CFC membership)
Premier section:  FIDE &CFC rated
Other sections: CFC rated
Prize
$3000 (based on 80 paid entries), with $600 for 1st place in Premier section
Unrated players (except in Premier section or Reserve section) are not qualified for section prizes, but for over-all best unrated prizes.
Sponsored by , we also provide 5 upset prizes for Round 1 to 5 (detailed rules)
Trophies and medals only for Reserve section
Tiebreaks for Reserve section
a) the games between the tied players (only if all tied have played each other),
b) Buchholz cut 1,
c) Buchholz,
d) the greater number of games with black (unplayed games count as played with white),
e) the greater number of wins.
f)  coin flip (administered by TD)
Entry fee
Early Worm, $60 (by Jun 16th)
Early Bird, $70 (by July 7th)
Regular, $90
Free for FIDE / CFC / USCF 2200+ or National Masters (by Jul 21st)

 
Early Worm
Early Bird
Regular
On Site
Standard
$60
$70
$90
$100
Second in same family
$40
$50
$70
$80
Third in same family
$40
$40
$50
$60
Reserve section
$40
$50
$70
$80
FIDE/CFC/USCF 2200+ or NM
Free before Jul 21st
$100

Play up a section (current rating within 100 rating points), add $20
Play up a section (current rating within 200 rating points), add $40
Deadline of online registration will be 24 hours before the first round.

On site registration will be accepted at $100 before first round (starting at 8:45am) ; if registering before 9:45am, players will still be paired for the first round, otherwise

get a potluck pairing (against someone else registering late) or a half-point bye

.
Payment
We accept online payment by Paypal (You don't need to have a Paypal account), or
INTERAC® payment to info@westchess.com (please also send an email to inform player name and CFC number)
We accept on site payment by credit card or by cash.
Cancellations and Refunds
Should something arise that prevents you from being able to attend the tournament, you can email us expressing the need to cancel, and your entry fee will be refunded in the manner of your entry fee payment, less any payment process fee. The deadline for any cancellations is 48 hours before the starting of the tournament.
Equipment
Provided (including chess sets, chess clocks and record sheets).
Thanks to for the rental of chess sets and chess clocks!
Accommodation
Inn At the Quay: $189 (Queen) per night + tax (nights of Aug 2nd, 3rd and 4th)
Simply call the Hotel (tel:604-520-1776 or toll free tel:1-800-663-2001) before July 22nd, and book in the "New West Summer Open" block.


We recognize and acknowledge the QayQayt (Ki-Kite) First Nation, as well as all Coast Salish Peoples, on whose traditional and unceded territories we live, we learn, we play, and we do our work. 
Rounds
Aug 03 2019

/ Day 1

Time
3-day section
Reserve Section
08:30
On-Site Registration
10:00
Start of Round 1
Start of Round 1
12:30
 
  Start of Round 2
15:00
  Start of Round 2
Start of Round 3
Aug 04 2019

/ Day 2

| Time | 3-day section | Reserve Section |
| --- | --- | --- |
| 10:00 | Start of Round 3 | Start of Round 4 |
| 12:30 |   | Start of Round 5 |
| 15:00 | Start of Round 4 |  Start of Round 6 |
Aug 05 2019

/ Day 3

| Time | 3-day section | Reserve Section |
| --- | --- | --- |
| 10:00 | Start of Round 5 |   |
| 15:00 | Start of Round 6 |   |
Venue
Douglas College New Westminster Campus (Classroom S1650)
700 Royal Avenue
V3M 5Z5 BC
Canada
Parking
On Saturday, the rates for the underground parkade in Douglas College are $2/hour to a max of $8 before 6pm & a $3 flat rate after 6pm. Cash only.
There is an Impark lot on 8th St & Royal Ave (surface lot). The rates are the same as the underground lot $2/hour up to a max of $8 per day & a $3 flat rate after 6pm.
Public transition
The venue is close to Skytrain Stations ( New Westminster station and Columbia Station). You are recommended to take #106 bus to reach the college (directly or after Skytrain).
Venue Detail
Main Site: S4650(Aboriginal Gathering Place), S1650 & S1670
No food or beverage of any kind will be permitted to be brought in or to leave to the venue.
Please note: On Sunday and Monday (BC Day), only east entrance will be available! See the map bellow.

Suggestion for parking
Douglas college underground parkade is open on only Saturday (August 3);the rates are $2/hour to a max of $8 before 6pm & a $3 flat rate after 6pm. Cash only.
Alternated parking around Douglas college are:
In red circle 1& 2 are paid parking, $6 for 12 hours (recommended).
In red line have free hours parking, please read sign carefully to determine how long you want to park the car.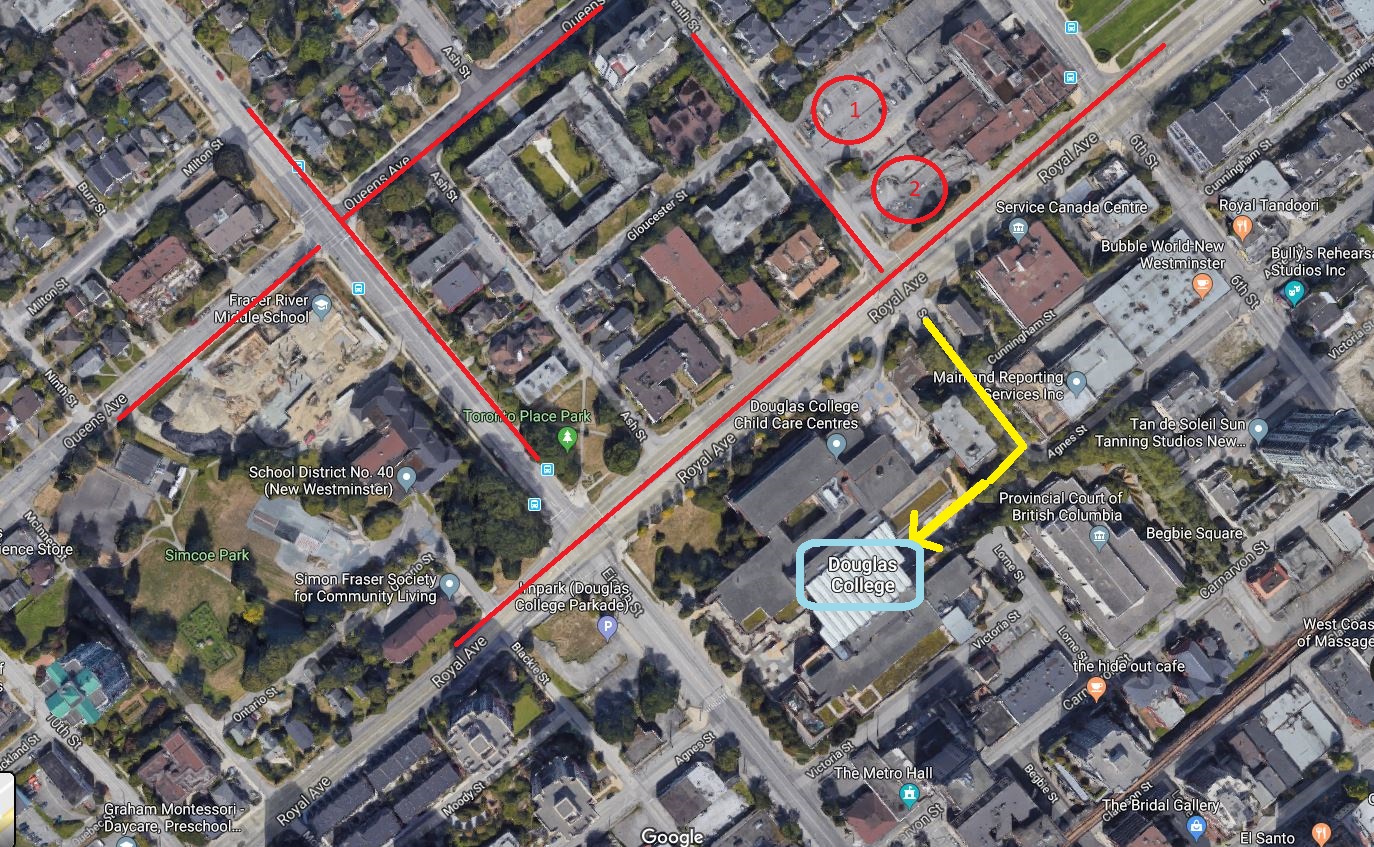 Side Event: BC Day Blitz
Organized by Lyvia Shan, Sherry Tian and Henry Yang
TD: Lyvia Shan
Registration is $5 per player

(Please register 30 minutes before hand)

It starts at 7pm August 4th (Sunday) and may delay if the last round of the tournament before hand doesn't finish very quickly.

5 round Swiss, time control 3+2.

First place $100 Second place $50 third place $25

Finish time is around 8:30pm.

**You will NOT be able to request a bye during this tournament**
Parental Supervision
Parents of players in grade 4 or below MUST remain on site throughout event to provide support/consolation to child. By the players' participation in the event, parents/ guardians, whether on-site or off-site, release the organizers, officials & other volunteers from any claims, damages or liabilities arising from participation in the event.
Crowd Release for Photography
Please be advised that photographs will be taken at the event (New West Summer Open 2019) for use on the westchess.com website and in the press, and other publications. By entering this event, you consent to the West Chess Club photographing and using your image and likeness.
Registered list finalized
Total online registrations: 122
Section: Premier

| No. | Title | Player |   | CFC Rating | FIDE Rating | Region | CFC Expiry * | Bye Rounds | Section | Notes |   |
| --- | --- | --- | --- | --- | --- | --- | --- | --- | --- | --- | --- |
| 1 |   | Madiyar Amerkeshev | edit player | 1944 | 2221 | Nanaimo, BC | expiring |   | Premier |   | edit order |
| 2 | NM | Brian McLaren | edit player | 2170 | 2114 | Langley, BC | valid |   | Premier |   | edit order |
| 3 |   | Kenji Hiebert | edit player | 2139 | 2033 | West Kelowna, BC | valid |   | Premier |   | edit order |
| 4 |   | Neil Doknjas | edit player | 2102 | 1975 | Surrey, BC | valid |   | Premier |   | edit order |
| 5 | WFM | Alina Iuliana Gibbard | edit player | 2077 | 2046 | Langley, BC | valid |   | Premier |   | edit order |
| 6 |   | Gilbert Roland Co | edit player | 2065 |   | New Westminster, BC | valid |   | Premier |   | edit order |
| 7 | WFM | Shi Yuan (Sherry) Tian | edit player | 2050 | 1855 | Richmond, BC | valid |   | Premier |   | edit order |
| 8 |   | Tristan Taylor | edit player | 2027 | 1953 | Vancouver, BC | valid |   | Premier |   | edit order |
| 9 |   | Peter Ferguson | edit player | 2004 | 1862 | New Westminster, BC | valid |   | Premier |   | edit order |
| 10 |   | Victor Zheng | edit player | 1976 | 1726 | Vancouver, BC | valid |   | Premier |   | edit order |
| 11 |   | ZhiQi Ryan Huang | edit player | 1933 | 1874 | New Westminster, BC | valid |   | Premier |   | edit order |
| 12 |   | Pavel Trochtchanovitch | edit player | 1924 | 1967 | Richmond, BC | expiring | 2 | Premier |   | edit order |
| 13 |   | Ryan Leong | edit player | 1913 | 1926 | Richmond, BC | valid |   | Premier | Floater possibly | edit order |
| 14 |   | Mark Linnick | edit player | 1876 | 1838 | Saskatchewan, SK | valid |   | Premier |   | edit order |
| 15 |   | Brian Yang | edit player | 1831 | 1574 | Richmond, BC | valid |   | Premier |   | edit order |
| 16 |   | Charles Wu | edit player | 1800 |   | Richmond, BC | valid | 1 | Premier |   | edit order |
| 17 |   | Joe Soliven | edit player | 1897 | 2076 | Vancouver, BC | valid |   | Premier |   | edit order |
| 18 |   | Chuyang Gu | edit player | 1879 | 1730 | New Westminster, BC | valid |   | Premier |   | edit order |
Section: U1800

| No. | Title | Player |   | CFC Rating | FIDE Rating | Region | CFC Expiry * | Bye Rounds | Section | Notes |   |
| --- | --- | --- | --- | --- | --- | --- | --- | --- | --- | --- | --- |
| 19 |   | Jamie Campbell | edit player | 1799 | 1715 | Nanaimo, BC | valid |   | U1800 |   | edit order |
| 20 |   | Jofrel Landingin | edit player | 1782 | 1788 | Vancouver, BC | valid |   | U1800 |   | edit order |
| 21 |   | Jose Prem | edit player | 1754 |   | Surrey, BC | valid |   | U1800 |   | edit order |
| 22 |   | Kai Wang | edit player | 1754 | 1577 | Richmond, BC | valid |   | U1800 |   | edit order |
| 23 |   | Ashton Taylor | edit player | 1748 |   | Vancouver, BC | expiring |   | U1800 |   | edit order |
| 24 |   | Nathan Ping-Ying Wu | edit player | 1714 |   | Richmond, BC | valid |   | U1800 |   | edit order |
| 25 |   | George Kim | edit player | 1697 |   | Vancouver, BC | valid |   | U1800 |   | edit order |
| 26 |   | Enayat Ganjian | edit player | 1692 | 1734 | Vancouver, BC | valid |   | U1800 |   | edit order |
| 27 |   | Ethan Su | edit player | 1684 | 1524 | Vancouver, BC | valid |   | U1800 |   | edit order |
| 28 |   | Ronald Basilio | edit player | 1637 |   | Surrey, BC | valid |   | U1800 |   | edit order |
| 29 |   | Emmanuel Pangilinan | edit player | 1603 |   | Abbotsford, BC | valid |   | U1800 |   | edit order |
| 30 |   | Brian Sullivan | edit player | 1592 |   | Langley, BC | valid |   | U1800 |   | edit order |
| 31 |   | Joshua Imoo | edit player | 1583 |   | Surrey, BC | valid |   | U1800 |   | edit order |
| 32 |   | Yu Han (Veronica) Guo | edit player | 1540 |   | Vancouver, BC | valid | 1 | U1800 |   | edit order |
| 33 |   | Elliot Lupini | edit player | 1509 |   | Victoria, BC | expiring |   | U1800 |   | edit order |
| 34 |   | Navid Samiei | edit player | 1282 |   | Coquitlam, BC | valid |   | U1800 |   | edit order |
| 35 |   | Larysa Plostak | edit player | 1590 |   | Coquitlam, BC | expiring |   | U1800 |   | edit order |
| 36 |   | Daniel Ruohan Wang | edit player | 1578 |   | Richmond, BC | valid |   | U1800 |   | edit order |
| 37 |   | Timur Zaruev | edit player | 1547 |   | Vancouver, BC | valid |   | U1800 |   | edit order |
| 38 |   | Clement Cheng | edit player | 1535 |   | Richmond, BC | valid |   | U1800 |   | edit order |
| 39 |   | Henry Yang | edit player | 1506 | 1529 | Burnaby, BC | valid |   | U1800 |   | edit order |
| 40 |   | Tyler Cruz | edit player | 1484 |   | Nanaimo, BC | valid |   | U1800 |   | edit order |
| 41 |   | Gillian Mok | edit player | 1365 |   | Vancouver, BC | valid |   | U1800 |   | edit order |
| 42 |   | Kamal Singh | edit player | 1342 |   | Burnaby, BC | expiring |   | U1800 |   | edit order |
| 43 |   | Aaron Anandji | edit player | 1339 |   | Surrey, BC | valid |   | U1800 |   | edit order |
| 44 |   | Joyce Zhang | edit player | 1339 |   | Surrey, BC | valid |   | U1800 |   | edit order |
| 45 |   | Dylan Fraser | edit player | 1327 |   | Vancouver, BC | valid |   | U1800 |   | edit order |
| 46 |   | Jerry Ming | edit player | 1326 | 1493 | Calgary, AB | valid |   | U1800 |   | edit order |
| 47 |   | Jerald Mamaradlo | edit player | 1289 |   | Surrey, BC | valid |   | U1800 |   | edit order |
| 48 |   | Aaron Han | edit player | 1288 |   | Surrey, BC | expiring |   | U1800 |   | edit order |
| 49 |   | Zhengyuan (Frank) Zhou | edit player | 1282 |   | Burnaby, BC | valid |   | U1800 |   | edit order |
| 50 |   | Neo Huang | edit player | 1275 |   | Surrey, BC | valid |   | U1800 |   | edit order |
| 51 |   | Alex Zou | edit player | 1212 |   | Vancouver, BC | valid |   | U1800 |   | edit order |
| 52 |   | Raymond Tangning Zhang | edit player | 1208 |   | Burnaby, BC | valid |   | U1800 |   | edit order |
Section: U1200

| No. | Title | Player |   | CFC Rating | FIDE Rating | Region | CFC Expiry * | Bye Rounds | Section | Notes |   |
| --- | --- | --- | --- | --- | --- | --- | --- | --- | --- | --- | --- |
| 53 |   | Winston Huang | edit player | 1170 |   | Vancouver, BC | valid |   | U1200 |   | edit order |
| 54 |   | Jason Sunardi | edit player | 1143 |   | Surrey, BC | valid |   | U1200 |   | edit order |
| 55 |   | Anthony Zongyue Li | edit player | 1127 |   | Vancouver, BC | valid |   | U1200 |   | edit order |
| 56 |   | Akash Jain | edit player | 1101 |   | Delta, BC | valid |   | U1200 |   | edit order |
| 57 |   | Khoi Trinh | edit player | 1093 |   | , SK | valid |   | U1200 |   | edit order |
| 58 |   | Justin Gao | edit player | 1090 |   | Vancouver, BC | valid |   | U1200 |   | edit order |
| 59 |   | Norman Batisse | edit player | 1085 |   | Surrey, BC | valid |   | U1200 |   | edit order |
| 60 |   | Erwin Jun-Han Mok | edit player | 1056 |   | Vancouver, BC | valid |   | U1200 |   | edit order |
| 61 |   | Aiden Leong | edit player | 990 |   | Burnaby, BC | valid |   | U1200 |   | edit order |
| 62 |   | Sohrab Ganjian |   |   |   | West vancouver, BC |   |   | U1200 |   | edit order |
| 63 |   | Behnam Vahabpour | edit player | 1151 |   | Vancouver, BC | valid | 2 | U1200 |   | edit order |
| 64 |   | Tyler Fowler | edit player | 1063 |   | Victoria, BC | valid |   | U1200 |   | edit order |
| 65 |   | Amanda Yang | edit player | 1056 |   | Vancouver, BC | valid |   | U1200 |   | edit order |
| 66 |   | Alexander Jin | edit player | 1039 |   | West Vancouver, BC | valid |   | U1200 |   | edit order |
| 67 |   | Steven Wang | edit player | 1034 |   | Richmond, BC | expiring |   | U1200 |   | edit order |
| 68 |   | Nicholas Pei-Chang Wu | edit player | 986 |   | Richmond, BC | valid |   | U1200 |   | edit order |
| 69 |   | Rohan Wessels | edit player | 972 |   | Richmond, BC | expiring |   | U1200 |   | edit order |
| 70 |   | Arya Cyrus Boroomand | edit player | 971 |   | Vancouver, BC | valid |   | U1200 |   | edit order |
| 71 |   | Lyvia Shan | edit player | 957 |   | Coquitlam, BC | expiring |   | U1200 |   | edit order |
| 72 |   | Samuel Zheng | edit player | 953 |   | Burnaby, BC | expiring |   | U1200 |   | edit order |
| 73 |   | Joey Xu | edit player | 925 |   | Burnaby, BC | valid |   | U1200 |   | edit order |
| 74 |   | Julian Tang | edit player | 918 |   | Vancouver, BC | valid | 3 | U1200 |   | edit order |
| 75 |   | Mengyang Li | edit player | 917 |   | Burnaby, BC | expiring |   | U1200 |   | edit order |
| 76 |   | Felix Tian Zhou | edit player | 912 |   | Vancouver, BC | valid |   | U1200 |   | edit order |
| 77 |   | Eric Shan | edit player | 906 |   | Vancouver, BC | expiring |   | U1200 |   | edit order |
| 78 |   | Miguel Vivas | edit player | 898 |   | New Westminster, BC | valid |   | U1200 |   | edit order |
| 79 |   | Jason Imoo | edit player | 885 |   | Surrey, BC | expiring |   | U1200 |   | edit order |
| 80 |   | Tom Chen | edit player | 858 |   | Vancouver, BC | valid |   | U1200 |   | edit order |
| 81 |   | Luke Huang | edit player | 858 |   | New Westminister, BC | expiring |   | U1200 | Floater | edit order |
| 82 |   | Zhengyu Chen | edit player | 852 |   | Burnaby, BC | valid |   | U1200 |   | edit order |
| 83 |   | Ryan Bole Yu | edit player | 841 |   | Vancouver, BC | valid |   | U1200 |   | edit order |
| 84 |   | Nathan Yi-Hsin Yang | edit player | 839 |   | Vancouver, BC | valid |   | U1200 |   | edit order |
| 85 |   | Brendan Woodroff | edit player | 833 |   | Chilliwack, BC | valid |   | U1200 |   | edit order |
| 86 |   | Shushrutha Bhatt | edit player | 818 |   | Vancouver, BC | expiring |   | U1200 |   | edit order |
| 87 |   | Gideon Tang | edit player | 814 |   | Vancouver, BC | valid | 3 | U1200 |   | edit order |
| 88 |   | Eliza Tian | edit player | 809 |   | Richmond, BC | valid |   | U1200 |   | edit order |
| 89 |   | Daniel Zhu | edit player | 785 |   | Vancouver, BC | valid |   | U1200 |   | edit order |
| 90 |   | Jerry Zheng | edit player | 777 |   | Surrey, BC | valid |   | U1200 |   | edit order |
| 91 |   | Alren Buhay | edit player | 762 |   | New Westminister, BC | valid |   | U1200 |   | edit order |
| 92 |   | Drake Chen | edit player | 749 |   | , BC | valid |   | U1200 |   | edit order |
| 93 |   | Emilian Holmgren | edit player | 662 |   | North Saanich, BC | valid |   | U1200 |   | edit order |
| 94 |   | David Yang | edit player | 654 |   | Burnaby, BC | expiring |   | U1200 |   | edit order |
| 95 |   | Abigail Wang | edit player | 578 |   | Surrey, BC | valid |   | U1200 |   | edit order |
| 96 |   | Ruijie Feng | edit player | 465 |   | West Vancouver, BC | expiring |   | U1200 |   | edit order |
| 97 |   | Aaron Holmgren | edit player | 0 |   | North Saanich, BC | valid |   | U1200 |   | edit order |
| 98 |   | Eoin Kelly | edit player | 0 |   | Richmond, BC | valid |   | U1200 |   | edit order |
| 99 |   | Kaiser Md Nahiduzzaman | edit player | 0 |   | Vancouver, BC | valid |   | U1200 |   | edit order |
| 100 |   | Brendon Taylor | edit player | 0 |   | Delta, BC | valid |   | U1200 |   | edit order |
| 101 |   | Braden Honson |   |   |   | Burnaby, BC |   |   | U1200 |   | edit order |
| 102 |   | STEVEN ZHANG |   |   |   | WEST VANCOUVER, BC |   |   | U1200 |   | edit order |
| 103 |   | David Liao |   |   |   | Surrey, BC |   |   | U1200 |   | edit order |
| 104 |   | Bohan Zhang |   |   |   | West Vancouver , BC |   |   | U1200 |   | edit order |
| 105 |   | KEVIN ZHANG | edit player |   |   | WEST VANCOUVER, BC |   |   | U1200 |   | edit order |
| 106 |   | Dong Fang Shi |   |   |   | Surrey , BC |   | 3 | U1200 |   | edit order |
| 107 |   | Nathan Yan | edit player |   |   | burnaby, BC |   |   | U1200 |   | edit order |
| 108 |   | Walter Zhang | edit player | 723 |   | Burnaby, BC | expiring |   | U1200 |   | edit order |
| 109 |   | Peter Gordon | edit player | 644 |   | Maple Ridge, BC | valid |   | U1200 |   | edit order |
| 110 |   | Coen Holmgren | edit player | 608 |   | North Saanich, BC | valid |   | U1200 |   | edit order |
| 111 |   | Gwendolyn Tang | edit player | 607 |   | Vancouver, BC | valid | 4, 5 | U1200 |   | edit order |
| 112 |   | Matthew Imoo | edit player | 573 |   | Surrey, BC | valid |   | U1200 |   | edit order |
| 113 |   | George Baiyuan Ning | edit player | 408 |   | Vancouver, BC | expiring |   | U1200 |   | edit order |
| 114 |   | Caitlin Wang | edit player | 378 |   | Burnaby, BC | expiring |   | U1200 |   | edit order |
| 115 |   | Hayden Feng | edit player | 0 |   | Burnaby, BC | valid |   | U1200 |   | edit order |
| 116 |   | Vikram Logan | edit player | 0 |   | Port Coquitlam, BC | expiring |   | U1200 |   | edit order |
| 117 |   | Joey Deng |   |   |   | Surrey , BC |   | 6 | U1200 |   | edit order |
| 118 |   | Armaan Randhawa |   |   |   | Surrey, BC |   |   | U1200 |   | edit order |
| 119 |   | Philip Tran |   |   |   | Surrey, BC |   |   | U1200 |   | edit order |
| 120 |   | Lucas Tran |   |   |   | Surrey, BC |   |   | U1200 |   | edit order |
| 121 |   | Adley Du |   |   |   | Surrey, BC |   |   | U1200 |   | edit order |
| 122 |   | zachary liu |   |   |   | coquitlam, BC |   |   | U1200 |   | edit order |