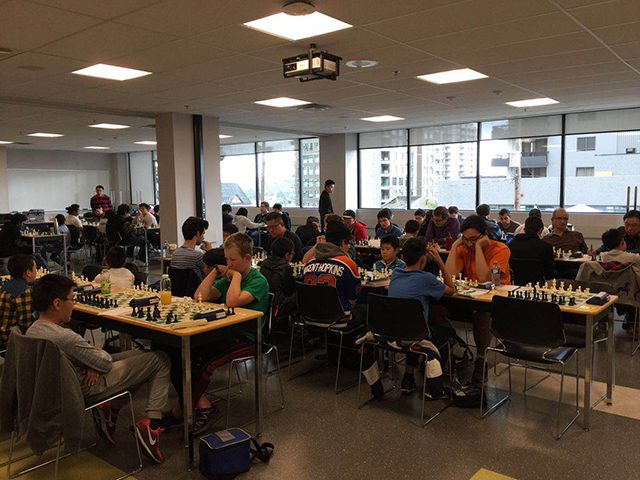 A new tournament is coming in Thanksgiving Day weekend, October 7-9 (Saturday, Sunday, and Monday), this year (2017). This tournament will be another big event for BC chess.
And now New West Open is supported by BCCF!
When
Oct 7th - 9th
First round: 10am, Aug 7th
Where
Douglas College (New Westminster)
Organizer
West Chess Club
Eric Gu, Nicole Zhao, David Yang, Lily Jia
Arbiter(s)
Stephen Wright (TD)
Eric Gu
Detail
Swiss system
CFC rated
You need a valid CFC membership ( Renew or buy annual CFC membership)
Sections
Premier / U1800 / U1200
(Subject to merge in case less than 40 total entries or less than 10 entries any section.)
Prize
$1000, based on 40 paid entries
$2000, based on 60 paid entries
and so on
Entry fee
Super Early bird, $60 (by Aug 20th)
Early Bird, $ 75 (by Sep 17th)
Regular, $90
Second paid entry in same family, less $30
Play up a section (lifetime high within 100 rating points), add $20
Play up a section (lifetime high within 200 rating points), add $40
Free for CFC 2100+ (by Aug 20th)
Free for GM/WGM/IM/WIM/FM/WFM/NM or CFC 2300+
Deadline of online registration will be 24 hours before the first round. 

On site registration will be accepted at $100 before first round; if registering before 9:45am, players will still be paired for the first round, otherwise

get a potluck pairing (against someone else registering late) or a half-point bye

.
Payment
We accept online payment by Paypal, or
Mail a cheque to Eric Gu,

97 East 2nd Ave (Back Barn), Vancouver, BC V5T 1B3

Cancellations and Refunds
Should something arise that prevents you from being able to attend the tournament, you can email us expressing the need to cancel, and your entry fee will be refunded in the manner of your entry fee payment, less any payment process fee. The deadline for any cancellations is 48 hours before the starting of the tournament.
Equipment
Provided (including chess sets, chess clocks and record sheets).
Thanks to for providing chess sets and chess clocks!

Accommodation
Inn At the Quay: $129 (Queen)  / $139(King) / $149 (double), per night
Hotel website: http://www.innatwestminsterquay.com/
Mention "West Chess Club" for the group discount.
Contact: info@westchess.com
Round 1: 10am, Oct 7 Saturday 2017
Round 2: 3pm, Oct 7 Saturday 2017
Round 3: 10am, Oct 8 Sunday 2017
Round 4: 3pm, Oct 8 Sunday 2017
Round 5: 10am, Oct 9 Monday 2017
Round 6: 3pm, Oct 9 Monday 2017
Half-point byes may be requested for all but the last round. One hour before the round starts, you can request a bye by emailing to info@westchess.com.
If your opponent doesn't show up for 1 hour after the round starts, you win by "forfeit".
Venue
Douglas College New Westminster Campus (Classroom S1650)
700 Royal Avenue
V3M 5Z5 BC
Canada
Parking
On Saturday, the rates for the underground parkade in Douglas College are $2/hour to a max of $8 before 6pm & a $3 flat rate after 6pm. Cash only.
There is an Impark lot on 8th St & Royal Ave (surface lot). The rates are the same as the underground lot $2/hour up to a max of $8 per day & a $3 flat rate after 6pm.
Public transition
The venue is close to Skytrain Stations ( New Westminster station and Columbia Station). You are recommended to take #106 bus to reach the college (directly or after Skytrain).
Tiebreaks
Head to head
Cumulative score
Opposition Cumulative score
Coin flip (administered by TD)
CROWD RELEASE FOR PHOTOGRAPHY
Please be advised that photographs will be taken at the event (New West Chess Open 2017) for use on the westchess.com website and in the press, and other publications. By entering this event, you consent to the West Chess Club photographing and using your image and likeness.